The introduction of "Reactions" over "Like" is sure the biggest change happened to Facebook over years. But how and why?But we are sure you are "WOW"ing over the change!
Facebook decided to change its like button a year ago and now it's finally here. The idea struck Chris Cox (the chief product officer at facebook) during an off-site meet at the Four Seasons Silicon Valley. Each of the six executives present were asked to speak out 3 projects that they might like to take up in 2015. When it came to Cox, he said something should be done about the like button.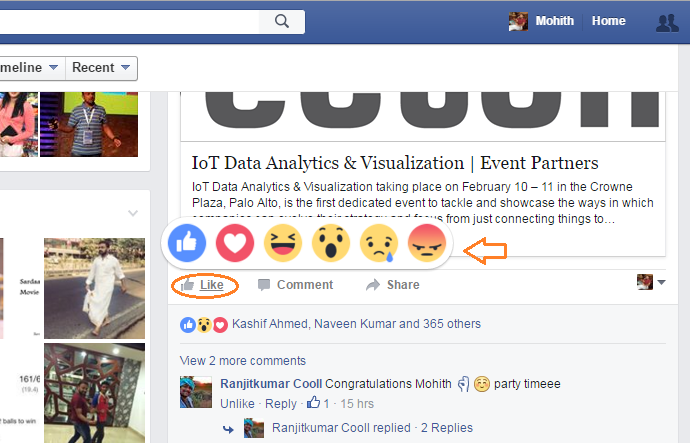 The like button is like second logo to the social media giant. It also adorns the company's Menlo Park campus. Over 6 billion likes are generated everyday, affecting the advertising sector hugely. Being a driver of social activity, it is expected to spread people's content. The likes are responsible for telling facebook what should be shown in the feed. But, it's still a blunt tool. Something bad happens, people like it!
For facebook it's like messing with its old age secret sauce. Cox had tried changing the like button earlier many times but no idea was good enough. He said, "This was a feature that was right in the heart of the way you use Facebook, so it needed to be executed really well in order to not detract and clutter up the experience. All of the other attempts had failed."
Cox told other executives that the time is right to roll the change. Adam Mosseri, his top deputy said , "Yes, I'm with you." later Cox took it to Zuckerberg who showed full support saying , "He said something like, 'Yes, do it. Good Luck. That's a hard one."
Cox joined facebook in 2005. He manages the main "facebook" app, while Zuckerberg takes of the other side businesses like Whatsapp, Instagram, Oculus Rift and Internet beaming drones. Bret Taylor, former CTO says, "Chris is the voice for the user. He's the guy in the room with Zuckerberg explaining how people might react to a change."
Zuckerberg says, "Cox is one of the people who makes Facebook a really special place." But, his record hasn't been so good. He designed facebook's Paper – the news reading app which wasn't used by anyone. He says, "I think any good company is trying things, is forcing itself to try things, and you need to be able to put things out there and try and learn. People only get in trouble if they're not honest about failure."